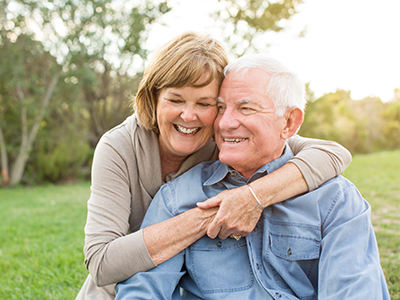 At one time, dentures were considered to be the less attractive option for tooth replacement. These removable dental prosthetics were mostly designed to help those who were missing most or all of their teeth to regain function. Thankfully, today we can craft full and partial dentures that not only restore function, but offer attractive and comfortable results as well. A better fit leads to even more satisfying function and security, and we can enhance your appearance with natural-looking and properly proportioned dentures. At our Okemos, Michigan dental office, we can create a custom denture or partial that will fit your unique smile and help support your facial features.
Whether you're exploring the option of dentures for tooth replacement for the first time or would like to upgrade to a new set from the ones you currently wear, you can visit Dr. Brian Carlin in the Lansing, MI area for quality full or partial dentures. We are happy to help patients receive dentures that fit well, even those who have exceptionally complicated cases. If you've lost teeth or need to have teeth extracted, you know what damage this can do to your feelings of confidence as well as your freedom to live the lifestyle you want. Without teeth, you cannot eat or speak properly, and missing all the teeth along an arch will present a set of complicated issues that can only be resolved through tooth replacement.
People often worry that dentures will slip and shift during wear, but if this is the case, it's because of problems with fit. By taking great care to craft dentures that fit snugly and securely to your gums, we can greatly reduce the slippage and make sure that you have a more confident and comfortable experience. The difference between ill-fitting and adequately fit dentures is astonishing, and custom-crafted dentures from Dr. Brian Carlin will allow you to chew, speak, laugh, and smile with ease! Plus, with dental implant-retained dentures, we can add an even greater sense of security!
Should you prefer, we also offer dental bridges and dental implants for tooth replacement. However, in cases of complete tooth loss, a denture – whether traditional or implant-supported – is the best option.
If you would like to see what today's dentures and partial dentures are like, contact our Okemos, Michigan dental office near Lansing, MI for an appointment. We can also help our patients maintain excellent fit over the years as the mouth's shape changes, ensuring lifelong function, comfort, and beauty.