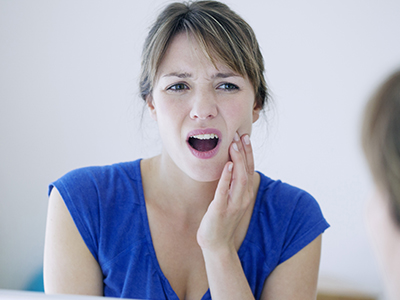 When patients need emergency dental care, Dr. Brian Carlin is here. Our Okemos, Michigan dental office knows that sometimes you can't wait for attention, and when dental emergencies arise, we want you to know that you can count on us. If you're currently experiencing a dental emergency, contact our Lansing area dental office immediately.
What kinds of problems are considered dental emergencies?
Broken or knocked out teeth
Lost dental restorations
Tooth pain
There are a few things you may need to know if you're experiencing these problems. If you've had a tooth knocked out, it is very important that you contact us as soon as you possibly can. If you make it to the office for treatment in time, we may be able to save your natural tooth. Make sure to gently clean the tooth without removing any tissue stuck to it; do not scrub the tooth. If you can place the tooth in its socket and hold it there, do so. If not, place it in a cup of milk or wrap it loosely in a moist paper towel and bring it with you to the office.
If a dental crown comes loose, try to place it back over the tooth if you can. At the very least, hang onto the restoration; if it isn't damaged, we should be able to cement it back into place. Make sure to come to the office for emergency dentistry as soon as possible, though. Even if you can place it back over the tooth, you'll want to resolve this issue as quickly as possible to prevent further damage and threats to your oral health, as well as to improve your comfort.
Tooth pain can be a sign of a very serious problem, so we can treat this situation as emergency dentistry. If you call our office, we can recommend ways to alleviate the pain until you can reach us. Tooth pain can indicate infection, and we'll want to resolve the problem with the appropriate treatment.
Children are especially susceptible to dental emergencies, so if your child incurs a dental injury while playing a sport or during some other kind of activity, we can provide emergency dentistry for them as well.
When you need emergency dentistry, contact our Lansing area dental office in Okemos, Michigan. Your entire family's oral health is of utmost importance to our team, and we've got you covered with emergency dentistry.