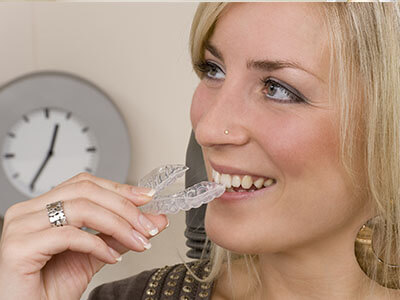 Most people associate orthodontic treatment with adolescence, but if you're an adult with crooked teeth or a bite problem, it's not too late for you to seek treatment! You also don't have to surrender confidence and comfort to undergo orthodontic treatment. Invisalign clear braces offer an alternative to metal braces for those who've been hesitant to explore options. Metal brackets and wires are cumbersome and unattractive, but Invisalign clear braces are comfortable and nearly invisible! Dr. Brian Carlin in Okemos, MI just outside of Lansing offers Invisalign to help patients overcome tooth alignment problems.
Invisalign clear braces involve a series of clear plastic aligners that will gently change the shape of your smile, guiding teeth into their proper position as you change from one aligner to the next. The series of aligners will be designed using an analysis of your current bite as well as projections of your ideal bite. Dr. Carlin has been trained in treating patients with Invisalign, and this training includes learning to use 3D computerized technology to take custom measurements, and then rely on these measurements to design the series of aligners that will lead you toward the straighter smile of your dreams.
Invisalign treatment can take a few months or up to two years, depending on the amount of change you require. Each aligner in the series will cause a little bit of change in the shape of your smile, gradually moving teeth into the proper position one step at a time. After a couple of weeks of wearing one aligner, you simply switch to the next one in the series until you get to the final aligner. These removable aligners are to be worn most of the time and should only be removed for activities like eating or brushing and flossing your teeth.
The benefits of Invisalign treatment from Dr. Carlin in Okemos, Michigan include obvious aesthetic benefits. The clear plastic aligners are virtually invisible and can be removed for those times when you prefer a cleaner look for your smile. But the benefits go beyond those pertaining to appearance. You can remove the aligners to brush and floss your teeth, and you don't have to avoid certain foods that might damage traditional braces. There also aren't any metal brackets and wires to irritate your mouth, which is a common complaint amongst those undergoing traditional orthodontic treatment.
Teens and adults with misaligned teeth, crowded teeth, spaced teeth, or overbites can contact the office of Brian Carlin, DDS to explore the option of Invisalign with Dr. Carlin. Located in Okemos, Michigan, we serve the Lansing area, offering quality cosmetic dentistry and more to ensure that our friends and neighbors maintain beautiful, healthy smiles for life.