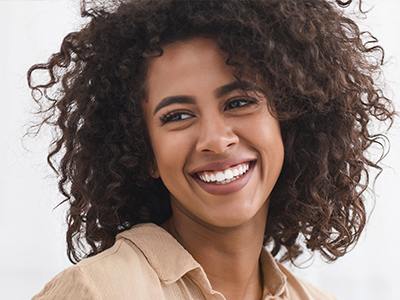 In a perfect world, your smile would be completely free from stains, chips, gaps, crookedness, cracks, and other appearance problems. Unfortunately, most people have at least one thing they would change about their smile, and the same is probably true for you. If you're self-conscious about some aspects of your smile's appearance, you might want to learn more about porcelain veneers from Dr. Brian Carlin in Okemos, Michigan. Even if you weren't born with a perfect-looking smile, we can use this cosmetic dentistry treatment to give you what nature did not. No other cosmetic dentistry treatment is so comprehensive, and few match the transformative power of porcelain veneers.
Porcelain has become a popular material for creating a range of dental restorations, including crowns, bridges, veneers, and implants because it looks so much like natural tooth enamel. Porcelain is strong, durable, and beautiful, and it can be shaped into tooth-like shells that can be bonded to the front of teeth to change your appearance. We can customize the look of your porcelain veneers, changing the color, shape, and size to make sure that the results look unique and to prevent the unnatural look that many fear when considering porcelain veneers. There's no need to worry. We believe that making sure your veneers blend in seamlessly with your smile is an important aspect of your smile makeover!
Veneers are more conservative than crowns, as they only cover one side of your tooth. We'll prepare the teeth that will be covered with veneers prior to taking impressions, removing the tiniest layer of enamel to make sure that they will fit properly into place and look as natural as possible. Once the veneers have been created, we'll make sure that you're 100% pleased with how they look and feel before we cement them onto the front of your teeth.
What are the benefits of a smile makeover with porcelain veneers? Veneers are strong, durable, and even resistant to stains. That's what's so amazing about porcelain as a material. This ceramic material is simultaneously beautiful and strong. Once they've been placed on your teeth, you need only care for porcelain veneers the same way you care for your natural teeth. You can continue to brush and floss as you always have after your smile makeover, keeping your teeth healthy and your veneers vibrant for years to come.
Lansing, Michigan area residents who are considering porcelain veneers or any other cosmetic dentistry options should contact our Okemos, MI dental office for a consultation appointment.