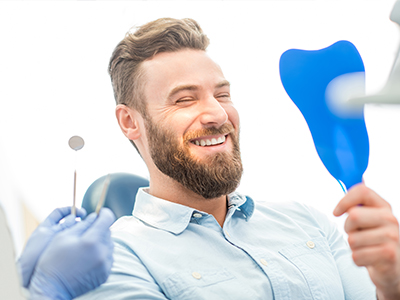 Every day that you go out into the world, you're making an impression on the people you meet. Whether they're first encounters or repeated meetings with friends, family, and coworkers, your smile will say a lot about you. Cosmetic dentistry can help you feel confident about these encounters. Your smile can communicate warmth, friendliness, good health, and personality, and Dr. Brian Carlin offers Lansing and Okemos, Michigan a range of options for cosmetic dentistry to make sure that your smile says only great things about you.
Our cosmetic dentistry includes a variety of smile makeover options, including:
Dr. Carlin brings an artist's touch and combines it with the science of dentistry to reshape your smile beautifully with cosmetic dentistry. Not only do we offer cosmetic dentistry treatments like teeth whitening and porcelain veneers, but we also can provide natural-looking dental implants, porcelain crowns, and tooth-colored fillings to correct dental damage without marring your appearance.
Cosmetic Dental Bonding
Cosmetic dental bonding uses the same material that we use to craft tooth-colored fillings to close gaps between teeth, fill in chips, cover cracks, and change the shape of worn teeth to be more pleasing in appearance. For those who want a more conservative cosmetic dentistry option than porcelain veneers and who have only minor imperfections to correct, cosmetic dental bonding is a great choice.
Invisalign®
Invisalign clear braces offer a unique way to straighten crooked smiles without having to put up with the hassle or unattractive look of traditional metal braces. If your confidence has been diminished by crooked teeth or bite problems, Invisalign offers a cosmetic dentistry option for changing the shape of your smile.
Porcelain Veneers
Cosmetic dentistry includes porcelain veneers, and Dr. Carlin can create beautiful, durable porcelain veneers for patients at our Lansing, MI area dental office. These custom-crafted pieces of porcelain are shaped to look completely natural and bonded to your natural teeth, covering up the issues that have negatively impacted how you feel about your smile.
Teeth Whitening
We offer Okemos, Michigan and surrounding communities both in-office and take-home teeth whitening. Every smile will become stained over time, but teeth whitening makes it easy for you to maintain a brilliant smile at any age.
Want to explore these cosmetic dentistry options with Dr. Carlin? Contact our Okemos, MI dental office for an appointment. Our team loves helping patients discover total confidence through excellent dental care.