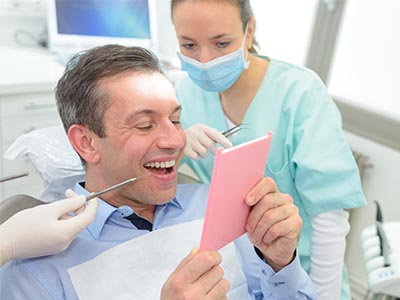 Dental crown and bridge techniques combine the art of cosmetic dentistry with the health and function benefits of restorative dentistry. When it comes to your oral health, crowns and bridges are a highly effective way to address teeth that have been weakened, damaged, or lost because of decay or trauma. Crowns restore strength to teeth that have been heavily worn down or fractured, and they also hold fixed bridges in place for replacing missing teeth. With porcelain crown and bridge from our Okemos, MI dental office, we can restore beauty to smiles that have been heavily damaged.
Dental Crowns
You may have heard of dental crowns being referred to as "caps" because they cover the entire portion of the tooth that erupts above the gums. Crowns can be made from porcelain to give them a natural appearance, and they're shaped with tooth-like chewing surfaces to provide optimal function. Crowns can save a tooth from being extracted, and we'll place a crown after root canal therapy because the treatment and damage that led to the need for the treatment will have so weakened the tooth that it will need the reinforcement.
The process of having a porcelain crown placed at our Okemos dental office is fairly simple. It will generally take two visits: one for preparing the tooth and taking impressions and the second for bonding the crown in place. We can make sure that the color of your crown blends well with the rest of your smile, giving you the comfort of knowing that your smile will look great when we're done. We'll make sure that the crown fits properly and comfortably before permanently bonding the dental restoration in place.
If the crowns are holding a bridge in place, they'll be on either end of the dental prosthetic. Porcelain crowns can also serve as part of a complete smile makeover, covering teeth in the back of the mouth to help make your smile more attractive.
Dental Bridges
Crown and bridge can be used to replace missing teeth. Fixed bridges provide an alternative to removable partial dentures. Patients who have healthy enough remaining teeth can have replacement teeth bonded into place, supported by dental crowns that fit over the remaining teeth on either side of the space where the lost tooth or teeth used to sit. Dental bridges can be made from porcelain as well, meaning that you still get the natural appearance you prefer.
To learn more about crown and bridge or any of our other restorative dentistry options, contact our Okemos, Michigan dental office near Lansing, MI.