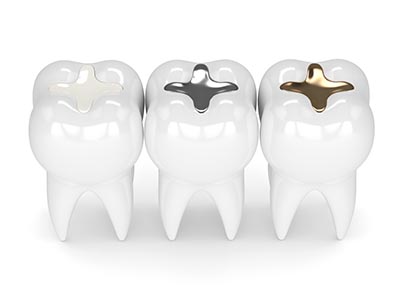 You might take your excellent oral health for granted – until you experience a problem. Then, you'll want the highest quality restorative dentistry available to treat your cavity, broken tooth, or missing tooth. When your dental health has been compromised by decay, disease, or injury, Dr. Brian Carlin offers solutions. In fact, when you visit our Okemos, Michigan dental office, you'll discover a plethora of strong and attractive restorative dentistry options for correcting a range of dental damages, from the small to the complex.
When we refer to restorative dentistry, we're talking about dental treatments that are designed to restore your teeth to good health and proper function. Thanks to modern materials, restorative dentistry can also return your smile to its original attractive appearance and even improve the look of your smile! At our Lansing area dental office, Dr. Carlin provides a variety of options for restorative dentistry with uncompromising quality.
Our restorative dentistry options include:
Tooth-Colored Fillings
Dental care has evolved over the years, and that means that today's restorative dentistry options aren't just strong and protective – they provide beautiful results, too. Nothing combines the beauty of cosmetic dentistry with the health-restoring powers of restorative dentistry quite like tooth-colored fillings. For a long time, a filling meant a dark spot on your tooth; these fillings were made of metal, and while strong, they had the ability to diminish the look of your smile. They also would expand and contract with changes in temperature, causing damage to your tooth enamel. Tooth-colored fillings are different. With tooth-colored fillings, the results look natural, and there's no fear that the composite resin used to craft these fillings for cavities will cause damage to enamel.
Root Canal Therapy
Root canal therapy is used to treat infections within the tooth. You may know about the anatomy of your tooth. Beneath the layer of enamel that you see lies a layer called dentin, and through the tooth runs a canal that houses the pulp. This pulp contains nerves and carries nutrients to through the tooth. When the layers of enamel and dentin wear away or are fractured, it can leave the root canal open and expose the pulp to infection and irritation. This will cause pain, and eventually, it will cause the loss of the tooth if it goes unaddressed. With root canal therapy, we can provide restorative dentistry to treat this damage and infection.
Tooth Replacement
Our restorative dentistry options include several forms of tooth replacement, including dental implants. It is very important that you replace any missing teeth to ensure ongoing function, comfort, and confidence.
At your regular dental checkups Dr. Carlin will check to see if you might be in need of restorative dentistry. Has it been a while since you visited the dentist? Contact our Lansing area dental office in Okemos, Michigan for an appointment, especially if you've been experiencing any tooth pain or sensitivity.