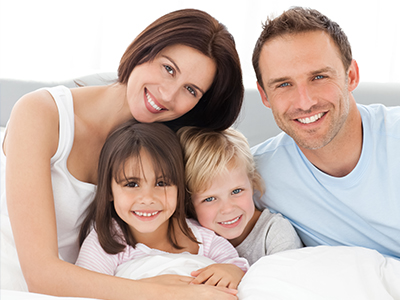 Brian Carlin, DDS in Okemos, Michigan provides complete family dentistry to the Lansing area. Dr. Carlin and the team at our office are deeply concerned with helping patients to maintain excellent oral health through a variety of general dentistry treatments. Everyone needs regular dental checkups and cleanings to prevent serious damage to teeth and gums, but we offer much more than these preventive dental care options. For those who want comprehensive family dentistry near Lansing, MI, our Okemos office is here, offering comfortable and caring dental care to patients of every age.
Preventive general family dentistry services include:
Dental Checkups and Cleanings
Oral Cancer Screenings
Custom Nightguards for Bruxism
Custom Athletic Mouthguards
Fluoride Treatments
Dental Sealants
Periodontal Therapy for Gum Disease
Periodontal Therapy
One of the main aims of general family dentistry is the prevention and treatment of gum disease. Why? Because gum disease is one of the most destructive oral health problems that you might face, and it's an exceedingly common problem, too. Gum disease is the leading cause of tooth loss, which is an advanced oral health issue that leads to the need for extensive treatment. If we can catch gum disease (also known as periodontal disease) early enough and treat it with non-surgical periodontal therapy, we can save you from the time and expense of bone loss and tooth loss. We can also help prevent seemingly unrelated health issues. You may not know that gum disease is also possibly linked to heart disease, rheumatoid arthritis, and diabetes (amongst other systemic health problems). Prevention and treatment of gum disease are necessary for total health as well as oral health.
Of course, we also use general dental treatments like dental sealants and fluoride treatments to prevent tooth decay and cavities.
Nightguards for Bruxism
Bruxism is another term for teeth grinding and clenching. Sometimes people grind and clench their teeth at night while sleeping, making it impossible to control. You may also absent-mindedly grind or clench during the day as a habitual response to stress and anxiety. What does this mean for your oral health? Grinding and clenching can place a great deal of pressure on your teeth, leading to chipping, fractures, breaking, and the loss of teeth. The pressure and movement can also strain the jaw joint, leading to jaw pain and other symptoms of TMJ dysfunction. As part of your general family dentistry care, we can craft custom nightguards to protect your teeth and jaw from the damage that can result from grinding and clenching.
For the Lansing, MI area, the office of Brian Carlin, DDS in Okemos, MI offers general family dentistry, as well as restorative and cosmetic dentistry, to make sure that our patients enjoy the most up-to-date and comfortable dental care possible. To make an appointment with our team, contact our office today!